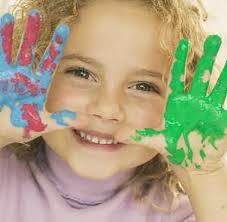 The power of imagery to promote healing has been well documented by anthropology, visual arts, psychology and science. However, children appear to have no need of documentation to appreciate the benefits of working with images when they come to Wellspring's Healing HeArt Art Therapy Program. Rather, their instincts tell them that personal art work is not only fun and intriguing, but beautifully powerful. It is like love at first sight!
Participants aged 5 to 16 have engaged in personal art making at Wellspring to therapeutically express their feelings and concerns about a parent living with cancer, or their grief when a parent has died. While some may initially voice trepidation about "therapy" and "having to talk", all have eagerly entered into creative activity with the colourful materials in the art therapy room. Once assured that talking is optional and not mandatory, children often release their initial nervousness. When their hands become busy with art materials, children's worries rise easily to the surface to be shared. Questions such as "Do many people get better from cancer?" or "Does anyone die from cancer?" and "What happens to kids when their mom or dad dies?" are given voice in what is now felt to be a safe environment.
A wise old saying instructs that sorrow shared is halved; a joy shared is doubled. We find this to be very true in the art therapy sessions. Children still do experience joy, even while dealing with the reality of cancer in the family. Any discomfort they feel about being happy in such a difficult time is put at ease during our discussions, which normalize the existence of a multitude of feelings at any given time. The recognition and naming of feelings is made easier as they are recreated in form and colour. Once the feeling is "out there" on the table, the artist feels safe to explore how to live with it in ways that may be helpful rather than hurtful.
A sense of renewal often fills the air as the session comes to a close. The children become more light-hearted, confident and hopeful than when they first came in. Indeed, most appear to be refuelled with enthusiasm! How is it possible for a child who enters an art therapy session burdened with worry and sorrow to emerge an hour later re-vitalized – even laughing?
Children, especially, long to be heard and understood as a unique individual, but it can be difficult to express great feelings of love and grief. Personal artwork done in the presence of a supportive witness can reach across intellectual and emotional barriers in a safe way to allow such expression to take place.  It also gives children something constructive they can do to support their parent at a time when both may feel most helpless. The artwork serves as a tangible record of love and support, of striving to not only cope but to overcome life's challenges. It becomes a talisman of strength.
The art therapy process is empowering. It allows us to recognize and affirm our own true voice in the imagery we create. When we offer our artwork as a gift of love and see it accepted with true appreciation…our spirit naturally fills with vitalizing energy. Our creation thus affirms that, deep within, we are greater than the problems in our life. We have the power to create, to bring positive energy to those we love. How, then, can we not laugh with delight?
Written by: Wanda Sawicki, Art Therapist
If you're not able to visit the London centre, check out the link below for information on how to integrate art therapy at home:
http://psychcentral.com/blog/archives/2011/08/06/art-therapy-exercises-to-try-at-home/
http://www.ehow.com/video_7876587_painting-art-therapy-children.html