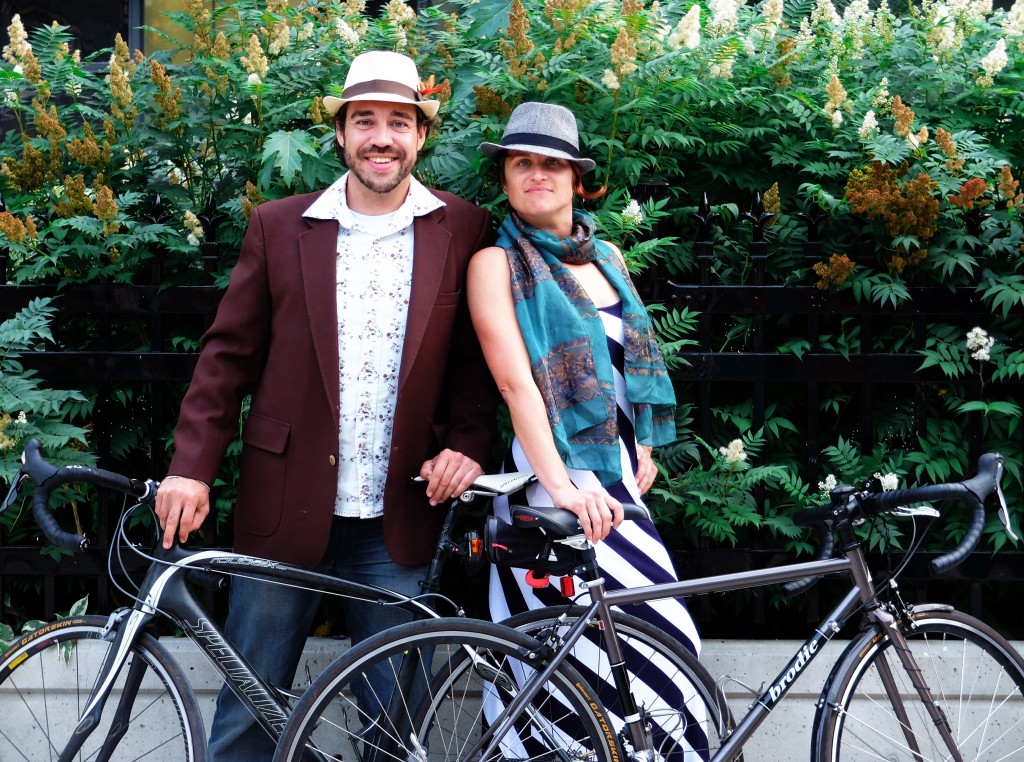 Joining the Peloton Challenge team this year are cycling newcomers Katie Mosher, manager of major gift fundraising at Wellspring and her partner Dr. Andrew Haller.
As a Wellspring employee, Katie has the opportunity to see, every day, the profound impact that Wellspring makes on the lives of people living with cancer. Dr. Haller, a researcher working to find a cure for cancer, also understands the importance of supporting those who are already living with the disease.  So, finding their inspiration in Wellspring, the two made a commitment to participate in the Peloton Challenge and ride their bicycles all the way from Toronto to New Orleans.
In the past, Katie and Andrew enjoyed biking leisurely around the city as a pleasurable pastime. But with the upcoming Challenge looming, they needed to begin serious training in earnest.
With each other as motivation, Katie and Andrew now take long bike rides on the weekends and shorter rides with hill training during the week, mixed with runs and some yoga to get in shape. But they feel this effort has been a positive life change for them both. Andrew's strength and endurance has improved, and Katie no longer has a fear of road biking.
As an American, this has also been an opportunity for Andrew to explore Toronto and its surrounding neighbourhoods, making him feel more connected to the city and to Canada. Their favourite ride so far has been to the Terra Cotta conservation area, just outside of Brampton.
In addition to training, fundraising is a large component of the Wellspring Peloton Challenge. Each rider has to raise $10,000 and they are both fully committed to meeting and exceeding their combined $20,000 goal. Knowing how the money is used at Wellspring is ongoing motivation for Katie, they have been trying to reach out to as many people as possible for help.  A few fundraising events are planned including Pedal Pushers event and a street hockey tournament. (Click here for more information about the Pedal Pushers event).
Katie and Andrew have their eyes set on achieving three milestones:  reaching the finish line, exceeding their fundraising goals and visiting New Orleans.
The two also encourage others to participate in the Wellspring Peloton Challenge. They are proof that you do not have to be an avid biker to be able to make such a journey. "Don't let the physical effort or the fundraising goal be deterrents" says Katie. "Give yourself about three to four months to train, and then, with a little creativity and a good support team behind you, it's absolutely attainable!"   For more information about the Wellspring Peloton Challenge, please visit www.wellspringride.ca or to support Katie and Andrew's ride please go click here to access their fundraising page.