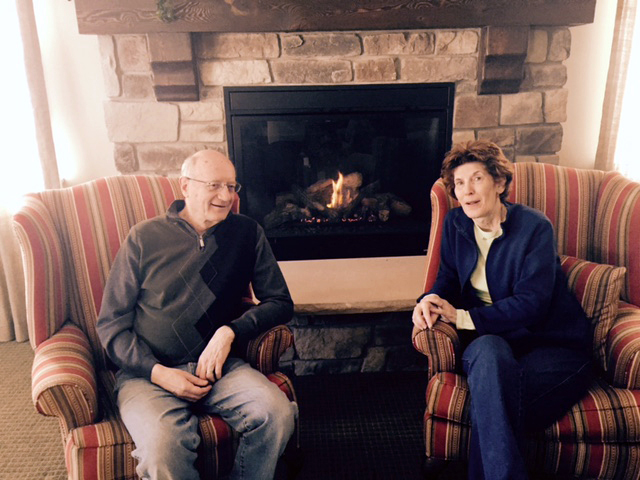 "Together, we  share our time, talent and treasure," says Don Vialoux when describing volunteering alongside  his wife, Jan at Wellspring Birmingham Gilgan House.
Living only minutes away from the Centre, Jan and Don would pass by the Oakville Centre on their way to and from work, and used to wonder, "What do they do in there?"  So, when Jan retired, she decided to explore Wellspring.  After one email, and a quick response from Wellspring, Jan was on her way to becoming one of the many long-serving volunteers at Wellspring Birmingham Gilgan House. After seeing how much she  enjoyed being involved with Wellspring, Don soon followed in Jan's footsteps and signed up to volunteer as well.  Working together came naturally for Jan and Don. They met at work.  "It is great to share the same passion and cause," says Jan. "It only strengthens our relationship." Jan, a jack of all trades at Wellspring Birmingham Gilgan House, has been volunteering for nine years, helping out wherever necessary, at the front desk, in the library and with data entry needs. Wellspring staff say they can confidently count on Jan to cover the centre when and wherever there is a need.
Don, a transportation volunteer has helped drive Wellspring members to and from the centre for the past six years. He also spends a great deal of time spreading the word about Wellspring within his community. As a cancer survivor himself, Don often reaches out to men in his neighbourhood who have been diagnosed with cancer and introduces them to Wellspring. He organized a presentation at his local church to better inform the Burlington community about Wellspring, and to inspire others to volunteer and get involved. And once a year, on his popular online community blog about finances and investing, Don encourages his readers to pay it forward and make a donation to support Wellspring.
Jan and Don radiate positivity and encouragement and urge people to volunteer and give back. Wellspring has become truly engrained into their lives. "Wellspring provides us with an opportunity to serve," says Don. "I have fun being with the people I'm driving. For Jan, Wellspring is a haven in the midst of a busy, turbulent world," "I get so much more than I could ever give just from being there."